Use cases...
Block out more sound than any other ear plugs in existence.
An ultra-high blocking, total sealing ear plug.
Should block up to 34dB of Noise
Provides a 100% Waterproof Seal over your Ear Canal
Provides 100% Waterproof Seal over your Ear Canal
Whether you fly, cruise or catch a train, block out all of the noise to get the most out of your holiday
Block out the wind coming through your helmet whilst cruising along on your motorcycle
If you work with the constant noise of loud machinery you need Aussie Ear Plugs to protect your ears
Shoot in peace and block out the noise made by your gun
Block out up to 34Db of that unwanted noise to study more effectively and gain better grades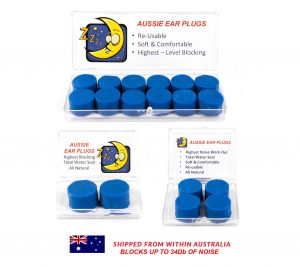 Our Story
After marrying in 2011 I started snoring like a banshee chainsaw so we needed to find the best ear plug for my wife to continue sleeping in the same room as myself.  After trying every soft foam and silicone ear plug on the market we found these round blue Beeswax, Lanolin and cotton Ear Plugs that are manufactured in the USA – They were amazing to the point where life was back to 'Happy Wife Happy Life'.
A few years went by and I was unable to find an Australia supplier for these Ear Plugs and AUSSIE EAR PLUGS was born.
Our little business started off slowly with Aussie Ear Plugs opening an eBay store in November 2013. Sales progressed slowly but surely to the point where we needed a simple website to send our message out further into the World Wide Web.
Our simple WIX website was born in 2015 which was embraced by many more bleary-eyed customers who were very grateful that they now had an Australian based supplier of these Ear Plugs.
We now have many thousands of customers and as at August 2018, more than 2000 feedbacks on our eBay store and needed to update our website to get the Ear Plug message out to more and more people.
This is the result.
Please enjoy using our Ear Plugs and we trust that they will be as effective for you as they have been for us.
Dean and Paula Hansen
Why Beeswax Ear Plugs
There are 3 types of ear plugs currently in the market: foam, silicone (yes, like those used in breast implants, I think!) and wax
The Beeswax Ear Plug are recommended as the Best Ear Plug to:
Block out the most amount of noise
Should block up to 34dB of Noise
Be the most comfortable to wear
The most reusable of all of the Ear Plugs
Best value for money per use when the amount of noise blocked and number of times used was taken into account
Musician Ear Plugs Australia
Beeswax
It is designed to be used outside the ear canal as well but Beeswax Ear Plugs are softer and easier to mold between your fingers into a ball. Once the ball is placed over the ear canal it is then flattened until it forms a seal over the ear canal. It is very important not to push on the Ear Plug to hard as the Ear Plug can be lodged within the ear canal.
These Ear Plugs are very comfortable when sleeping, blocked out the most amount of noise and stayed in the ears whilst sleeping.
Foam
It is designed to be used inside the ear canal. They are generally specified according to the amount of dB it can reduce. Users are supposed to 'roll' them first before putting it in. It can take a long time to perfect the skill of 'rolling'. Basically, this involves twisting the ear plug until it gets thinner and more elongated. Then put it straight into the ear canal. The foam expands inside the ear canal and stops the sound from going through.
If you do not complete this procedure properly, the ear plugs will fall out in your sleep as you move around. Some people, especially ladies, have small ear canals. Thus, it could be difficult for them to put the ear plugs in.
Silicone
It is designed to be used outside the ear canal. Users should roll it to a small ball (like plasticine), place it OUTSIDE their ear canal and then press to flatten it. (like sealing the entrance to stop sound from getting into the ear).
However, when reviewers have pressed too hard when placing over your ear canal, the hard silicone material may irritate your ear. So beware!
Some reviewers also found that it got stuck in their hair and fell out in the middle of the sleep. It is not a good material to use.
Silicone Ear Plugs blocked out a good amount of noise but it was noted that they are quite uncomfortable to use as they are hard and often fell out of the ear whilst sleeping.
Order yours today...
FREE Shipping
Free standard shipping within Australia
100% Satisfaction Guarantee
No risk, money back guarantee on all orders