What our customers say...
Absolutely Fabulous. Really block out noise. I am a light sleeper so glad I found these!
Just got some and they are brilliant, best sleep I have had for years.
Best earplugs. Have tried a few. I am such a light sleeper. These are amazing and stay in all night without fail!
BEST EAR PLUGS EVER! Not only do they block out so much sound and stay in, but I have found that they have seemed to make my husband relax more while he sleeps and his breathing is much more rhythmic and quiet!
I spend so much money trying countless different ear plugs but they either hurt my ears or don't block out much sound. But then I came across Aussie Ear Plugs and my life changed!
Why Aussie Ear Plugs…
The highest blocking, most complete sealing 'moldable' Ear Plug in existence

100% Natural – Blended from Pure Beeswax, Pure Lanolin & Cotton
Soft & Moldable – forms to and seals the ear upon insertion
Fits all ear canals – pinch off or combine to create your a perfect fit – from the smallest infants to the largest adult
Ultra High Blocking – the highest level of protection from snoring, loud machinery, music any many other use cases
Seals out Water – For swimmers, surfers, bathers & those with major & minor ear problems, this superior ear plug completely seals out water 100%.
Reusable – each pair can be worn between 25 & 35 times, offering great value for money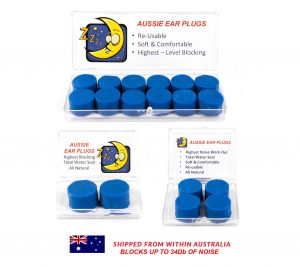 Order yours today...
FREE Shipping
Free standard shipping within Australia
100% Satisfaction Guarantee
No risk, money back guarantee on all orders